The Tytan Band:

I enjoyed the London scene i could watch bands most nights and mix with other rock musicians, we were rehearsing most days at Edwin Shirley Trucking where there was a big hanger/shed that Tytan had rented from Edwin, we had our gear set up in it permanently, it was cold but good as a live gig rehersal place.

I started using AIIZs songs that were written but not assigned to a publishing company with the band to bolster their song list which was short when i joined, we had played a song in AIIZ called Money for Love and we adapted that to Tytan, along with some other songs. We started to do some warm up gigs, dont recall where they all were. Brixton accadamy was one a 5000 all standing venue in Brixton, London.



Steve Gibb, Dave Dufort, Gary Owens, Kevin Riddles and Kal Swann at rehearsals in Edwin Shirley Trucking in West Ham London



Kevin Riddles, Kal Swann, Dave Dufort, Gary Owens and Steve Gibb, at rehearsals in Edwin Shirley Trucking in West Ham London

Because the band had several known musicians in it was relatively easy to generate publicity for the new band, this is an early article from Karrang magazine that came out after i had been in the band a while, it was written earlier, inset is a cutting from Sounds music paper, both articles were written by Karen Harvey.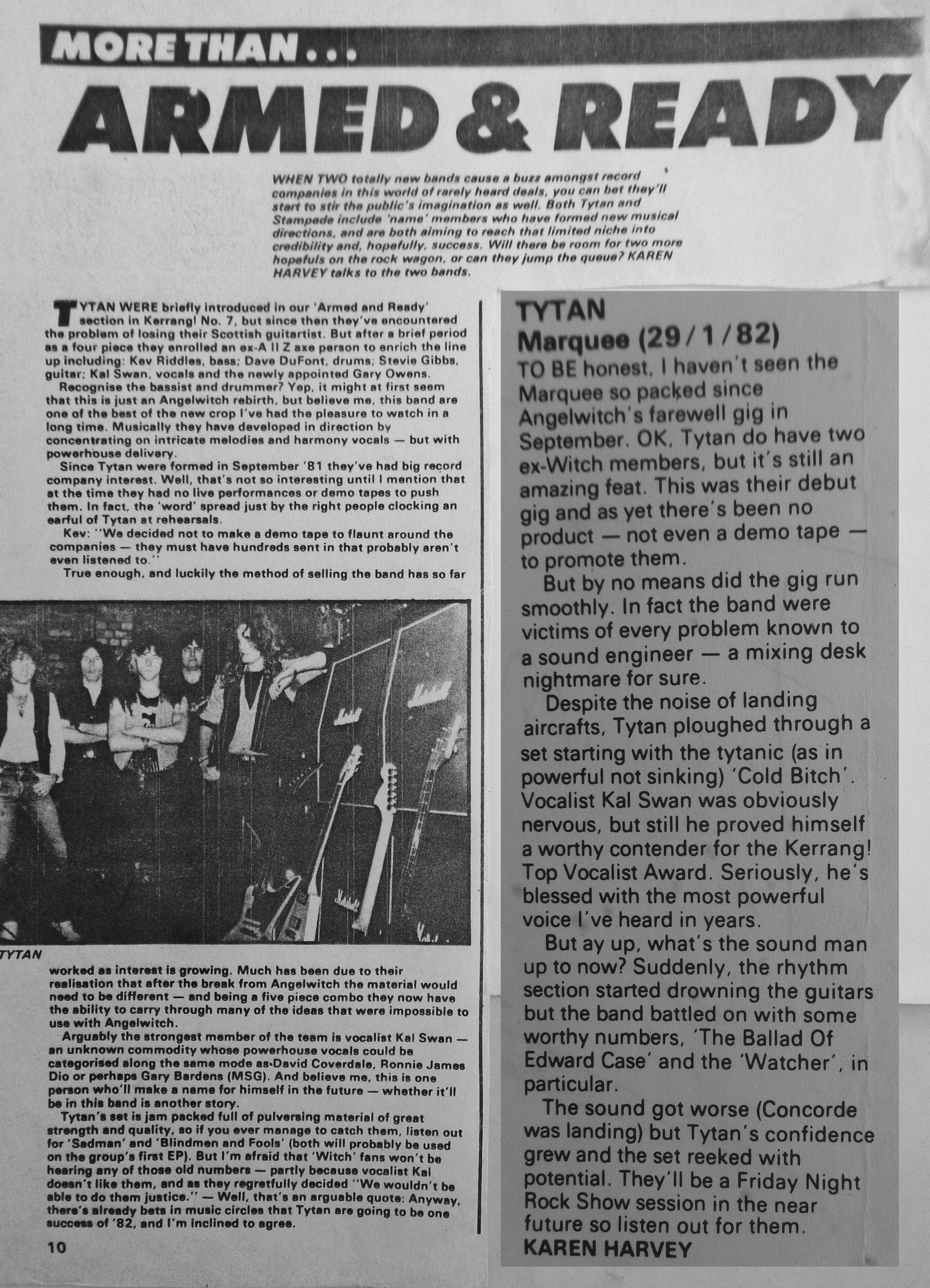 Our debut gig was at the world famous Marquee Club, nothing like jumping in at the deep end. Both AIIZ and Angel Witch could have sold out the Marquee, there was that many people at the gig people were falling out the back doors onto Dean Street, Tytan grew in popularity very quickly, it literally stormed the London heavy rock scene.



The Marquee Club London, Gary Owens, Kal Swan & Steve Gibb


Tytan at Monmore Rock Festival At Wolverhampton Football Stadium Gary Owens & Steve Gibb It was raining that hard at this gig it was bouncing of my guitar i was real worried as we were aware it was possible to get electrocuted like this, a couple of strange things happened at this gig, on the way into the gig that was secured by Hells Angels England, we were walking through the backstage area to our dressing room and i bumped right into a girl called Sandy who had been a groupie for AIIZ, she had come down because she had heard AIIZ were playing, not that i knew of i said, she came with me and walked up behind the stage, where i saw all my AIIZ flight cases, Dave my brother decided to try and do a gig and revive the band as far as i know they never played the gig and walked away never to play again. I had Hells Angels England seize all the equipment as it was all mine and i took it back to London.

Tytan at the Marquee Club in London on January 29th 1982
The band started to get an international reputation from the London gigs as most the worlds rock media would see bands at the Marquee. We went on to do many other concerts, and started looking at doing major tour support with established bands.

A fan from Japan sent me this cartoon Monmore Football Staduium

This is a cartoon done in the top music paper in Japan, spot the blonde streak in my hair lol, the likenesses are cool! A fan sent me this years ago! No idea what it says but you can make out the name AIIZ and HM.

We were asked to do a gig to open and text the Brixton Fair Deal a 5000 all standing hall in London by the owner, the concert was videoed, but not promoted, it was not about the fans it was to test the concert hall and for us it was a chance to see what the band would look like on a bigger stage, the video was a shock to me for several reasons, and was the start of me wanting to leave the band. The video showed the inexperience of Steve and Kal, and the songs and sound were not good it was a mismatch all over the stage and i felt the band was not a quarter of what AIIZ was.

This came to a head when out of the blue Dave and Kev announced that we had been offered a record deal with Kamaflage Records, a subsidiary of DJM (Dick James Music, Elton John and Queens publishing company at that time). I was taken to a signing meeting for the contract without ever having the chance to see or read the contract. I refused to sign the contract and left the band, i did not even know if i could sign the contract as i was signed to Polydor and Kennedy street and had no idea of those contracts legally and if i could assign the publishing of the songs that we had used in Tytan that were AIIZ songs.

I never trusted Kev and Dave and was right not to, Dave is now on the run in Japan for a fraud and Kev is suspected to have stolen all my equipment from Edwin Shirley Trucking rehearsals, i have a witness and also was told it was Kev at the time by a roadie. They then went on to use the songs and not name me as the writer of the songs, another offence, one which will be put right in the near future. I intend to sue Kev, Tytan, and DJM for my MCPS PPL and PRS royalties and any other money i would of earned from the songs from the beginning to now, along with another ex member of the band who has also had some similar treatment from these crooks posing as a heavy metal band!

Brixton Academy Gig:

The London Scene: While i was in London i got to meet and see many bands, i moved to Brixton living with a girl called Shelly who was a stripper at the Paul Raymond review bar, i knew quite a few of the girls from Paul Raymonds review club, mostly because some were trying to get a girls band together doing heavy rock and i went along to see them and helped them where i could. I went down there a few times to the Review Club but it was not my scene all a bit seedy for me.

Voyna was one of the girls, the band were called Sleek, it was Voyna that introduced me to Shelly who was looking for someone to share her flat with.

I went to Reading Rock festival while at Shellys, i was invited by the owner of the Marquee club who also owned the Reading Festival. I met all the bands playing there and as i was leaving met a girl looking for a lift home, i offered to take her, we pulled up at her house in Staines Middlesex i thought it was flats and she lived in one, it turned out she owned the whole stately home it had been AA Milnes house who wrote Winnie the Pooh.

The girl was Jo Jo Laine at that time still married to Denny Laine from wings, i stayed at the house for a while and was going back and too to my flat in London, one day while at the house in Staines i woke to find the house surrounded by reporters, and Jo Jo had disappeared, i was left trying to handle her kids and fend off the newspaper reporters. Apparently she had got up in the night gone to the airport flew to southern France Marseille and gone to Denny Laines yacht where she proceeded to throw Dennyís 16 year old pregnant girlfriend of the yacht into Marseille harbour!

When Jo Jo returned i had left the house and never looked back, she called at my flat continually, so i moved, she then started to ring my mother, she rang every day for a while and for over a year, i never returned a call. I heard that years later she was going out with the guy that did the safety deposit robbery in London, there were a thousand stories that surrounded JoJo she had been out with Rod Stewart and Jimmy Hendrix among many others, she had a colourful life i remember at her house one day she got a cheque for ninety thousand pounds from the PRS and



Jo Jo Laine as i remember her.

All she said was how am i supposed to live on this money. Sadly she died age 53 falling down the stairs, Ginger Baker wrote the last page of her book saying - very affectionately - "No sane man would go near her." He was obviously a smart guy, she was incredibly beautiful but totally crazy!

I got a phone call from Andy Scott from the Sweet one day asking me would i be interested in doing Brian Johnsonís from AC/DC solo album, Andy was going to produce it and put me forward as the best British guitarist at that time. I had lost touch with AC/DC after Bon Scottís Death, i liked the new album Back in Black but i never thought it was the same after Bon died. I agreed to meet with Brian and i met him in my local at that time, the Ship Inn on Wardour Street London, a few doors up from the Marquee club and across the road from the St Moritz Club where we went after gigs at the Marquee. We had a pint and a chat and agreed to do the record, but later there was objection from AC/DCs management who said it would detract from AC/DCs standing, none of agreed but the album never went ahead, it was to be Blues and would not of conflicted with AC/DC.

I was invited by Mike Henley who was a well known tour manager and who did the Black Sabbath and Girlschool tours with us, to go to the Fair Deal in Brixton to meet Sammy Hagar who was touring and rehearsing at the facility, while i was there Ian Gillian turned up and we met and watch Sammy Hagar rehearsing together with Mike.

I went out one night to a well known exclusive club, i was asked to go as Michael Shenker was to be there and i wanted to meet him, i sat with him and had a few drinks, halcyon days for me. For me he was still the best guitarist around and the guy who got me taking guitar playing serious.

I knew the owner of the Marquee Club owner (same guy that owned reading rock festival) and would go there most nights, seeing every band i could, i saw the song kylie by Marillion there before it was a hit, fish the singer was good and the band i thought would make it.

Other bands i saw were Chinatown, Tank, Sampson who back then had Bruce Dickenson as the lead singer, Paul Sampson was the guitarist i always thought they would make it. Magnum with the singer Bob who was a great performer, i saw them later supporting Def Leopard they were way better. It was in this time that i met Phil Lewis from Girl, there guitarist went and joined Def Leopard and i was thinking of joining but there other guitarist was not right to work with for me, first time i met them at Phils apartment in London they were more interested in going out to the Ritz Phil had been out with the legendary Brit Ekland who sent him a stuffed dog to finish with him, Phil was upset but i thought it was hilarious.

They were more like playboys than rock musicians, although Phil really wanted to make it, he now sings with LA Guns in the states. At Philís house one day he chopped out what i thought was a line of cocaine so i snorted it and passed out, it was a line of smack, i had never taken any drugs other than the odd line of cocaine on tour, i did not smoke and never smoked marijuana, i never allowed anyone near the band connected with drugs, we used to sack roadies if they were selling it. I remember going down the Embassy Club with Gerry and Phil from Girl Phil and i ended up in the St Moritz club late on pulling girls, we bumped into the lead singer of UK subs who was with Gary Glitter and they looked identical we could not tell them apart and laughed about it. We used to go down Peter Stringfellows club a lot. Went to see Steve Winwood who was brilliant met the band. Saw David Bowie in a small club he was already famous but a lot of the big stars would turn up and do small clubs back then.


Went to see the band Asia with Steve Howe from yes, they were playing at Earls Court, i was in the royal box overlooking the stage on the left as you look at the stage, right above the main stage, i was with Gary Moore and Neil Murray from Whitesnake, i had met them at the Marquee and got invited to the Asia gig with them.

During the Asia gig Steve Howe did a solo that included parts of Mood for a Day which i loved from Yes days, Gary Moore who was drunk out of his mind, was leaning over the balcony shouting Your fucking shit and a lot of other profanities, i crawled out of the royal box and went to the bar on that floor, funny night Neil Murray was not a happy bunny! Saw Aerosmith play at Earlscourt and met the band.

I got word that the Rolling Stones were going to play Wembley Stadium so i went over to their managements place and blagged a ticket for the first gig and two back stage passes for the second, i had met Ronnie Wood with Jo Jo and also met Mick Jaggers brother who was in a London blues/skiffle type band. I went back stage and met the band and went to the party, the gig was amazing, one of the all time top bands.

London life was a blur of meeting famous musicians and people and endless gigs, i was at a hotel to meet someone one day and bumped into Noddy Holder from Slade who was checking out and had a chat about his Chin and Chapman days, we sat and had a drink, as he left a bunch of what looked like tattooed hells angels come out of the lift, i recognised the small guy he was called Angry Anderson from rose tattoo i had seen them play, they were over to do some gigs in the UK so i sat with them and had a few more drinks, Angry went on to appear in the Mad Max movie Thunderdome.

London life was a blur of meeting famous musicians and people and endless gigs, i was at a hotel to meet someone one day and bumped into Noddy Holder from Slade who was checking out and had a chat about his Chin and Chapman days, we sat and had a drink, as he left a bunch of what looked like tattooed hells angels come out of the lift, i recognised the small guy he was called Angry Anderson from rose tattoo i had seen them play, they were over to do some gigs in the UK so i sat with them and had a few more drinks, Angry went on to appear in the Mad Max movie Thunderdome.


Years earlier i had met a girl who became a groupie with AIIZ called Sandie she was from Southampton i met her on tour with AIIZ, later bumped into her at Monmore rock festival when i was back in London i looked her up she was living in Chalk Farm near the round house studio, i started seeing her again.

One night i was at a Thin lizzy gig, i had seen Lizzy loads, i liked Brian Robertson and he had showed me some licks on guitar, i met Phil Lynott a few times, best bass player front man of all time. I was talking with Phil backstage and we started taking girls, and it turned out he was also seeing Sandie, we laughed and had a few drinks, we never told her.

I was looking to get into a new band that had a chance of getting somewhere, i had heard about a band called Rogue Male i met Jim Lyttle at his house and talked about the opportunity, went along to rehearsals, i liked the band they were like a heavy Thin Lizzy back then.

I joined the band and started rehearsals, it went well and we were sounding good, legendary Derek Nicol who was Nazareths manager among many others came to see us and was looking at signing us with a view to going over to the states.

One night after rehearsals we went for a few drinks and decided to have a Kebab after, while in the kebab shop some football thugs came in and stated jibing us about our long hair, the kebab shop owner intervened and we left and got in the car, all of a sudden Jim jumped out of the car and ran at the guys that had been jibing us he laid in to them, it ended up that they were fighting with scaffolding poles.

Jim got very badly hurt and that was the end of the band and USA jaunt, i eventually had to go to Southwark crown court and give evidence against the guys involved. I was drunk and dont remember all the details, but it was a sickner for me and i decided that i was going back to Manchester.


Tour Managing With Kennedy Street & Tony Fletcher:
Soon as i was back in ManchEsther i called Tony Fletcher, he was the guy Kennedy Street Enterprises got to look after the bands they were promoting, they controlled most of the gigs around the UK. Tony said to come and join him at 10CC at the Kensington Hilton so i got on a plane at Manchester and went straight back to London.

The idea was that i would be his assistant tour manager and look after VIPs that tried to get in the back door, we used to call people that hung around bands Liggers, that would mean they are not VIPs but had some vague connection to the band and would try and crash parties and events etc. I got to the Kenny Hilton and got a warm welcome from all the 10CC road crew who i knew well, most of them toured with us also, we were sat drinking in the main lounge and i saw Bruce

Forsyth walk past with a young dolly bird we all laughed about it, after about an hour Eric Stewart showed up he was staying there too, he started playing the piano in the main lounge right next to our table, he was real good and was knocking some songs out. Out of the blue the assistant manager of the Hilton came over to Eric and clearly did not know who he was, he said, can you please stop playing the piano sir its not for guests.

Everyone burst out laughing, and the guy got more serious he said i am not joking you will have to leave if you donít stop. Before he could finish what he was saying a big roadie jumped up got his hand round his throat and lifted him of his feet with his thumb and finger around his windpipe so he couldnít say anything else he carried him across the room like that and pressed him up against a wall about 30 feet away. Eric carried on playing and no one said anything about the guy, the roadie had words and the guy withered and disappeared.

After Eric Finished he asked to have the piano brought to his room, the road crew leaped up stripped the piano down took it upstairs in the lift and left all the furniture from the room in the lift blocking it all up, it was real funny. Kennedy Street booked hundreds of rooms a year with the Hilton and they said nothing about it.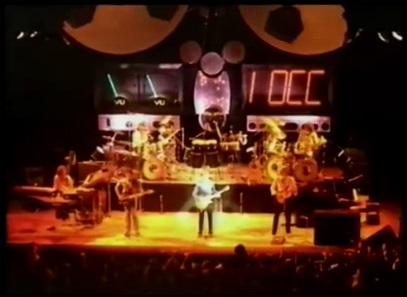 Graham Youle was my Guitar Roadie as well as for 10cc, a professional and my gear was always spot on, JK from Birmingham worked with us on tours doing the change overís and load ins etc, Zebb White stage manager, Zebb was in control of the set up of the gig, and when he wasnít touring would rent out 10cc equipment from a warehouse under Strawberry Studios, Zebb was the guy who did all the AIIZ gigs for the record companies using all 10cc equipment, he and his wife lived in Bramhall close to us.

We got off to the sound check the next day, it was the concert when 10CC had the 60feet wide reel to reel on stage, it was a piss take of the press that were saying because they used tapes for the song Im not in love, that they were cheating, fact is not in love had about 30 vocals on it! So they decided to have a giant tape recorder on stage to take the piss!

As the gig was getting under way i was back stage managing the myriad of stars that had passes when security called me over on the radio asking me to verify a guy they did not want to let in but who said h knew the band. When i got there the guy was on the floor clearly so drunk he could not speak properly, and most likely on smack and covered in his own vomit. I turned the guy over and it was Bob Geldof, i got security to pick him up and took him to a guest room got him some coffee and got security to stay with him until he was coming round.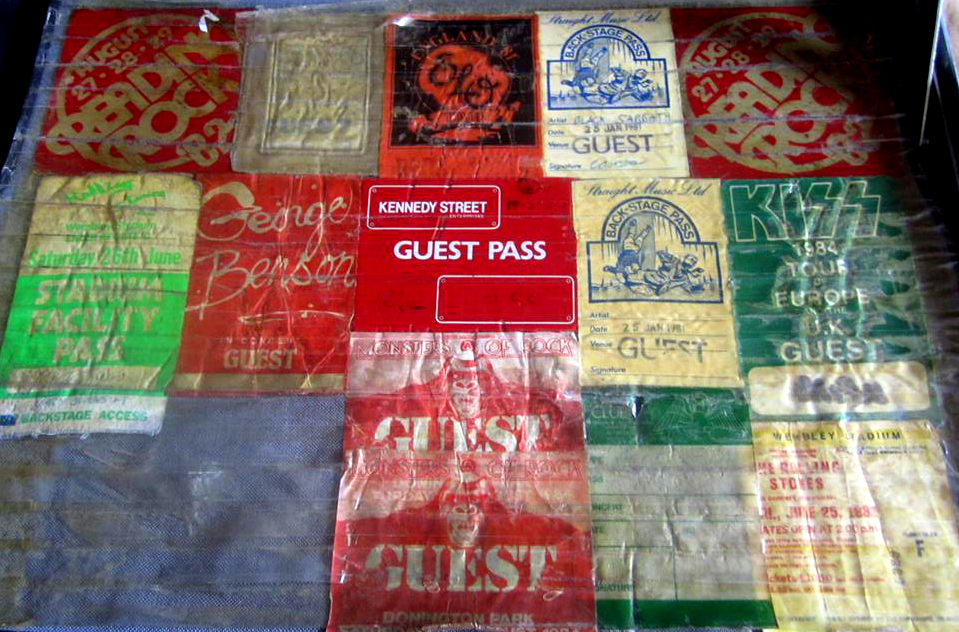 This is my tour managing case, its a mess now but i used to hand out passes from it etc!

I went on every tour Tony needed me on, it was great fun and i got to see all the bands and how the business was run. Helped on the George Benson tour it was different for me than the normal rock stuff but it was classy and great. I did the Barry Manilow tour he was a great guy and total professional, there were so many stars that came to see him it was like a whos who of the music industry, i remember after the Bingley Hall gig me and Tony went up to see Cannon and Ball to sort out some issues they had, i met them in the dressing room real great guys and made us laugh continuously. I did the Ginger Bakers Hawkwind Tour, Preston was the gig i remembered most of that tour, it was the first time i had had time to listen to Ginger play, wow could he play!