I went on every tour Tony needed me on, it was great fun and i got to see all the bands and how the business was run. Helped on the George Benson tour it was different for me than the normal rock stuff but it was classy and great. I did the Barry Manilow tour he was a great guy and total professional, there were so many stars that came to see him it was like a whos who of the music industry, i remember after the Bingley Hall gig me and Tony went up to see Cannon and Ball to sort out some issues they had, i met them in the dressing room real great guys and made us laugh continuously. I did the Ginger Bakers Hawkwind Tour, Preston was the gig i remembered most of that tour, it was the first time i had had time to listen to Ginger play, wow could he play!


Kennedy Street got the Kiss tour of 1984, i went as assistant tour manager, it was great. We started in London where the GLC (London Council) had to send an adjudicator to see if the flames they were using would be allowed on the UK tour, they toned them down a bit for the test and it got through they were using pine needles injected in to oxygen and fired 50 feet into the top of the Wembley arena.

We had to manage a Virgin Megastore appearance by Kiss as a PR stunt on Oxford Street London, there were thousands of people there, and inside the store it was packed from back to front, i was stood next to Paul Stanley they were just sat behind a table and met and spoke to everyone for hours, it was an amazing event.

At the Bingley Hall gig in Staffordshire kiss started the set using the flames turned up full they set the roof on fire, it was lucky it was not a disaster, roadies got up on the lighting truce and put it out, the crowd loved it but were unaware of how close to a serious incident they were.

At Deeside Leisure Centre Gene Simmons had his girlfriend there Diana Ross, they turned up early as the stage was being set, it was a set up that Gene had asked for, because in London she had gone out and spent thirty thousand pounds on his credit card.


He was not happy, so he convinced her to try out how he flies during the concerts, she willingly put on the harness and they sent he 40 feet up in the lighting truce they stood there and ignored her pleas to come down after a few minutes, they were talking amongst themselves and laughing and then turned the lights of and walked out leaving her there. She was screaming blue murder; she was understandably upset and crying. Think they split up after that! The band Girl supported at Deeside Leisure Centre and i got to catch up with Phil.

One night while doing tour managing we were at a hotel with the Nolans and Max Boyce, and we were all asked to come down to the dining room when we got there Max had decided to do a private show for all the road crew and the Nolan sisters, it was so funny he had us all in stitches he was a great entertainer and it was a special treat for us.


Another great night was meeting Barclay James Harvest who was with our sound engineer Ian Sutherington we had been introduced to the band years earlier and used the same sound engineer on our tours, he was very experienced and had done Sad cafe and a host of other great groups we were lucky to have him and he was introduced to us by Kennedy Streets Tony Fletcher

After spending a year going to gigs i was anxious to get back playing. I decided to try a solo venture and built a band around some songs i wrote, i went in the studio and recorded them in demo form and put an image together that suited what was going on in the record industry, a bit naive but trying to be different, in the past people had called me Charlie as i looked like king Charles II, so we took that image to the extreme and did a video to go with the demo, this was the band then.

Whenever i was not tour managing i would be at a local concert hall, i went to every gig at Manchester Apollo and could get in all venues free, i went to see AC/DC at the Apollo and after the gig i stayed behind with one of their roadies Phil and played Anguss guitar while hanging off the bell, it was the Hells Bells Tour they had a giant bell on stage. I was sat back stage in there onstage den that was behind the drum riser so they did not have to go far when they came off stage, so while they were playing if Angus was doing a long solo Brian would nip round for a drink, and they would wait there during encores.

Charles II Group:


Duncan Ferguson (ex Aurora), Dave Owens (ex AIIZ), Gary Owens (ex AIIZ, Tytan), Brendan Day, Paul Taylor (Played with Richie Blackmore)



Duncan Ferguson (ex Aurora), Dave Owens (ex AIIZ), Gary Owens (ex AIIZ, Tytan), Brendan Day, Paul Taylor (Played with Richie Blackmore)

I went down to London and went round several record companies who were all interested but would not put up the amount of money i wanted. I was looking for five hundred thousand, the best offer i got was thirty thousand from the same company that did titans album, it was a lot of money back then, but i did not think it was enough to break the band and turned it down.

We never did any gigs but had a lot of interest, Vic Mayall brother of John Mayall and the Blues Breakers was joining at the end, he had played in AIIZ and lived in our local town of Bramhall.

A Prop from the video, this is a painting of me done by a talented artist from Stockport art collage


Some images from the staging of the video these stickers were put on the front of tapes given to record companies:

During the Charles II Band i was invited to go and see and talk with John Entwistle from the who at his house, he had a 24 track studio in the house and there was a possibility that i could replace the guitarist he had in a band and also use the studio for me to record an album in, his house was immense and his guitar collection that was in the loft was out of this world, i took a video camera and recorded it all, i met Jason Bonham there the legendary John Bonhams from led zeppelins son, and a guy i knew called Andy who was in the London scene playing with UK Subs. I went with John Entwistles cousin John Lea who was helping us try and get a record deal.

Heart Break Force
I did a TV appearance on Granada TV with a band called the Heart Break force, it was a pop band the some we did on TV was Hold on, the band was two girls and two boys i played keyboards it was just to try get something going, i played keyboards before guitar, i could play rock and roll and blues on keyboards before i left school, it was never to do long term.




While i was on this project AC/DC were doing Donington Monsters of Rock with Van Halen as support. One of the guys who was about then Mark Duffy (I was doing business with his farther who owned Avanti Clothing) had free time and agreed to run me over there, i tracked down what hotel they were staying in and set off early in the morning, by the time i had got there i had had a few cans of bear, AC/DC had the whole hotel booked, when we arrived in the car park that was limestone chips, security came out and asked us to leave, so i instructed mark to do doughnuts round the car park until security came out again, they did eventually and i explained that i was not a fan but knew the band.

We were told to wait, and after a couple of minutes got the nod to come in the hotel. I sat in the bar and a few minutes later was joined by Malcolm, Angus, Brian and Simon Wright (AIIZ old drummer who was now playing for AC/DC). We all started drinking pints, it was a blur of catching up chat, i had had a few before i got there and after an hour or two i was well sloshed, i dont remember anything else, i woke up in the VIP enclosure with Van Halen playing Jump, i was right in front of Eddie Van Halen playing a keyboard, i had passes stuck to me, looking back it was crazy and funny, the gig was great.


I was living at Armadale close and I set up a business up with Mark Duffys dad who owned the brand Avanti and had exclusive contracts with Marks and Spencer and Top Shop. Every year there was a huge amount of stock left over of Top Shop cloths, all quality branded stuff, he had to keep the surplus in case of returns from the stores he supplied, part of his contract.

I did a deal with him to buy them off him and sell them through pub outlets in and around ManchEsther and also via several market stalls. I set up a fashion label called GK Fashions to do this with, it was very successful, one of the first places i did it was the Jolly Sailor pub in Bramhall, i would give the pub owners a pick of cloths for free, we would sell a lot, 500 to 1000 pound per night, i was buying a pair of designer pants for 3 pounds and selling them for 30 pounds. Lots of times we were allowed to sell cloths that had not even come on sale in the UK yet.


Modelling Work:
I did a hair modelling session for Hair & Beauty Magazine with the hair designer Phil Novak.



Gary Owens and Barry Blood, Gigs & Song Writing Team:



Jolly Sailor & Detective Chief Superintendent Roy Pearson

I met Barry in a local pub called the Jolly Sailor in Bramhall, he was a well known musician and we started to spend a lot of time together going out to night clubs and on holidays.

One of the guys from the Jolly Sailor was Joseph Zammit who i knew was recruited into the Quality Street Gang (QSG) by a guy called Carl Jones who pinned him down ripped off his pants and Stanley knifed his balls and he joined the QSG for protection. At least that was the local story going around at that time. One night after drinking in the Jolly Sailor I was attacked in my home with a knife by Joseph Zammit who was shouting he was with the QSG, Detective Chief Superintendant Roy Pearson, who was a family friend, told me that i should go and talk with Jack Tricket, a local boxing promoter and member of the QSG.

A few days later I went back to the Jolly Sailor with Barry and Zammit was in there with a guy from Poynton a builder who Zammit worked with, they were staring at us and making phone calls after we had told people we were going on to a club in Stockport, we were with Barrys two sons, and when we were in the club it was clear that there was something going on, as we left we were followed out, and a fight broke out, they were fighting Barrys two sons and Barry but not me, presumably because Zammit was on bail and he could be serious trouble if they touched me. I found out later that the club belonged to QSG, it was behind the Brookfield hotel in Stockport. So this was the start of the QSG trying to get me in any way they could, I believe it was going on before this as the Dougie Flood incident with my Auntie Flo and the killing of her dog demonstrates, they had it in for our family.

I used to play piano in a night club in Stockport Hamiltons, owned by Jerry Summers, Barry would sing it was in a private lounge at the top near Jerrys office, i met several girls here that were all linked with Jack Trickett, one in particular called Wendy Brown asked me continuously to go to the boxing in Oldham, she said that Jack Trickett the promoter wanted me to go and had asked her to ask me. I knew this guy was a local mobster and stayed well away from him, i had no idea what he wanted to speak with me about and still dont as i never spoke to the man. Another girl was Justin Mole (more on her later).

These girls hung around at Hamiltons as it was owned by the QSG, i found this out years later when Malcolm Edwards QSG Money Man told me they had owned it in a conversation about another local villain called Chris Little, apparently Chris had marched to the steps of Hamiltons with hundreds of people in an attempted gangland takeover of the town: Malcolm told me they killed him for taking over their bars and other issues.

Barry and i inevitably started playing together as a duet, it started in Austria in Saalbach, Hinterglemm at a Ski Lodge at the After Piste Party. We got up drunk to do a song with the local band, we went down great and the owner who was the wife of member of Austrian parliament and a member of the royal society of arts asked us to play a five song set every day we were on holiday for free drink and food at the bar, we obliged and had a great holiday, we had took the holiday last minute stood at Manchester airport not even knowing where we would be going till the last minute. I learned to Ski on that holiday, we played every day and had people dancing in the aisles. We had many holidays, Ibiza was memorable where i learned to water ski, we met a lot of gilrs there and were playing in the local bars where there were some great musicians.

We had already started writing together and on a trip to Chapel music in London where i met Lynsey De Paul by a white piano in Chapels entrance. Barry had wrote a song that was used on East Enders as a love song between Angie and Wicksey, called Killing Time, BBC records had released it. I was already in the British Academy of Song Writers and Authors (BASCA), chapple met with us and told us what they wanted us to do for them.



At a Ski Lodge in the Austrian Alps



Gary & Barry with the band after the show

We started to do a lot more gigs and was invited to the Hippodrome in London by Peter Stringfellow who i had met several times at his night club earlier in my music career.



Live at the Hippodrome in London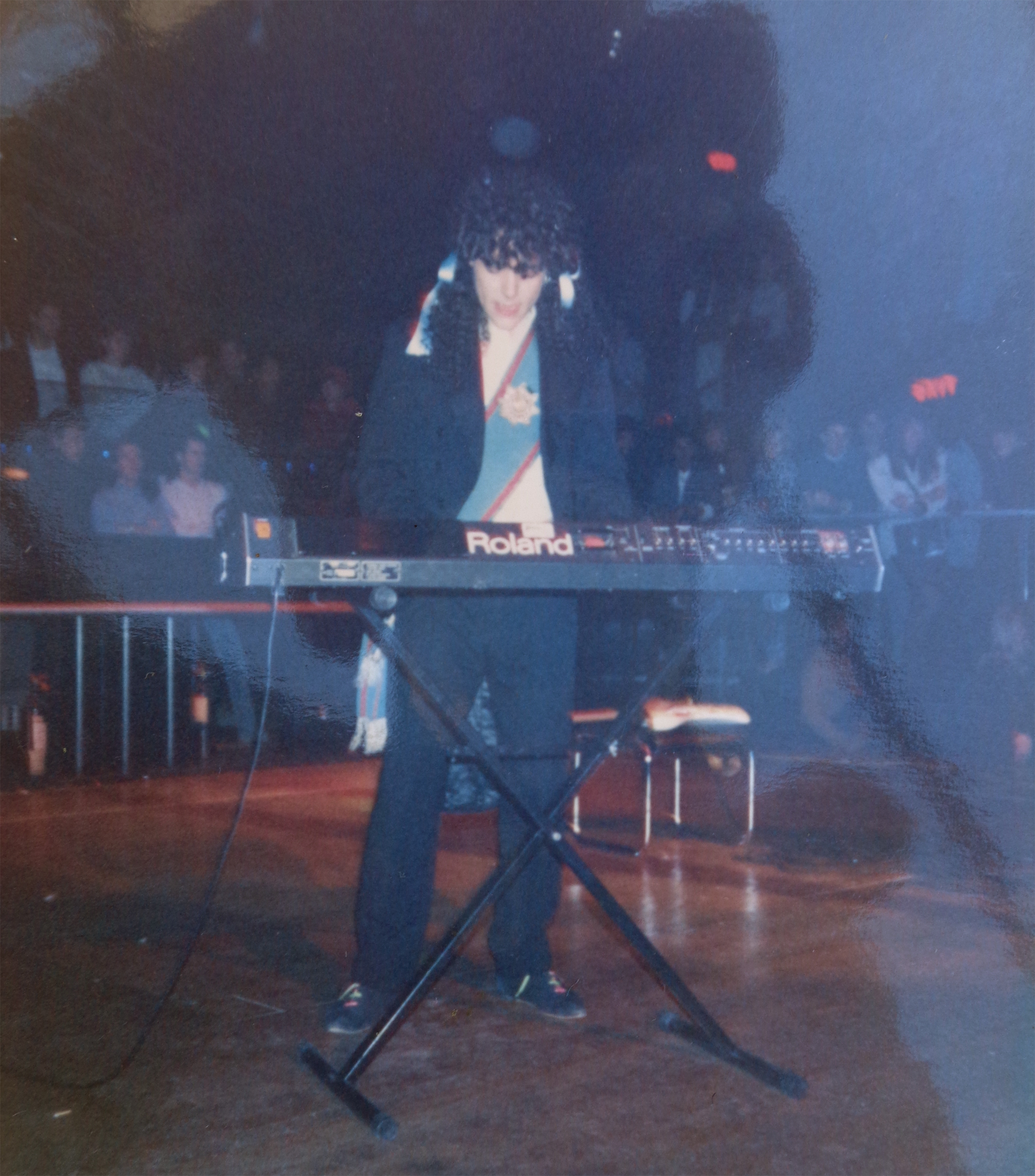 After show party time

The concert was a huge success and we had a great night out all expenses paid including a slap up meal and as usual we were surrounded by girls, the gig was packed total sell out, we got the gig through a tape we sent to Peter Stringfellow, he called up and said he had booked us in on a main night, Saturday, we were well chuffed as it was very hard to get a gig there.



Pictures taken for our song writing venture.



Barry Blood, Eileen Stow (General Manager Performing Rights Society) and Gary Owens



Barry Mason (Songwriter, Board of BASCA), Gary Owens and Barry Blood